Porcelain Veneers Can Quickly Give You a Flawless-looking Smile
Custom-made to conceal cosmetic imperfections while appearing very natural, porcelain veneers cover the front surfaces of your teeth for a symmetrical and dazzling smile. Dr. Yamen Akhras is proud to provide high-quality porcelain veneers at his full-service dental practice in Orland Park, IL. To schedule your free consultation, contact us today.
Porcelain Veneers Consultation
Dr. Akhras may recommend porcelain veneers to correct a variety of cosmetic imperfections. They can make chips, cracks, and minor misalignment disappear, as well as dramatically whiten your smile. If you are a good candidate for this cosmetic procedure, Dr. Akhras will discuss your concerns with you and what you hope to achieve. He will also evaluate your smile in the context of your other features to design a smile that brings harmony not just to your teeth, but to your face as well.
During your consultation at our practice, he will also make sure that your teeth are healthy enough to support porcelain veneers, and may recommend a restorative procedure to address certain oral health issues. Dr. Akhras wants to help you to achieve a dazzling and lasting smile, which is why he will never recommend treatment if underlying problems may compromise the longevity of your smile.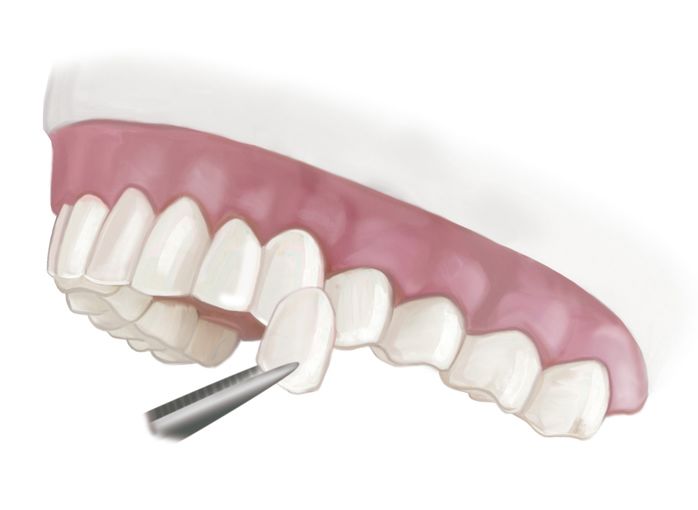 Porcelain Veneers Procedure
The procedure for porcelain veneers is noninvasive and virtually painless. It typically requires two appointments. During your first visit, Dr. Akhras will prepare your teeth for the veneers by removing a tiny bit of enamel from the surface. He will then take impressions of your teeth to send to his dental laboratory, where an expert ceramicist can custom-craft them for you. When you return for your second visit in about two weeks, Dr. Akhras will permanently bond your veneers to your individual teeth. He will make any necessary fine adjustments, and you will leave our office with your brand-new smile.
Porcelain veneers are just one of many cosmetic treatments you can choose for a comprehensive improvement to your smile. For example, if you are not having veneers placed on all of your visible teeth, Dr. Akhras may recommend teeth whitening first. This will allow Dr. Akhras to place lighter porcelain veneers to match your brighter smile. Any number of cosmetic and restorative services can be combined into a custom smile makeover.
Porcelain veneers are an investment in yourself. They are built to give you bright and dazzling smile you can be proud of for years to come.
Benefits of Porcelain Veneers
In addition to being beautiful, porcelain veneers are stain-resistant and durable. The medical-grade ceramic that porcelain veneers are made from does not chip or crack, and the veneers are firmly secured in place. Porcelain veneers very closely resemble the appearance of natural enamel, with sheen and light-reflective properties. Many patients choose veneers because they can correct so many cosmetic issues with a single procedure, and it takes only weeks to have a flawless-looking smile.
Learn More
Porcelain veneers are an investment in yourself. They are built to give you a bright and beautiful smile you can be proud of for years to come. Contact us today to schedule a consultation with Dr. Akhras and discuss how porcelain veneers can improve your smile.