Wisdom Tooth Removal Is Often Recommended for Optimal Oral Health
Wisdom tooth removal is performed to address or prevent oral health issues, and it is commonly recommended for patients in early adulthood. You may need to have one, two, or all of your wisdom teeth removed based on their current positions and the direction they are growing. Dr. Yamen Akhras offers safe, gentle wisdom tooth removal at his state-of-the-art practice in Orland Park, IL, and is one of very few practitioners that use intravenous (IV) sedation with the procedure.
Dr. Akhras is trained in the latest dental techniques and is highly experienced in all aspects of wisdom tooth removal.
Reasons for Removal
There are a variety of reasons why dentists recommend wisdom tooth removal. Most of them begin with insufficient room in the jaw, which causes improper positioning or growth. When your tooth is unable to break through the gums, it is considered impacted. Impacted wisdom teeth do not always cause problems but are often removed when they cause pain or infection. In some cases, impacted wisdom teeth can cause damage to other teeth and bone and may even develop a cyst.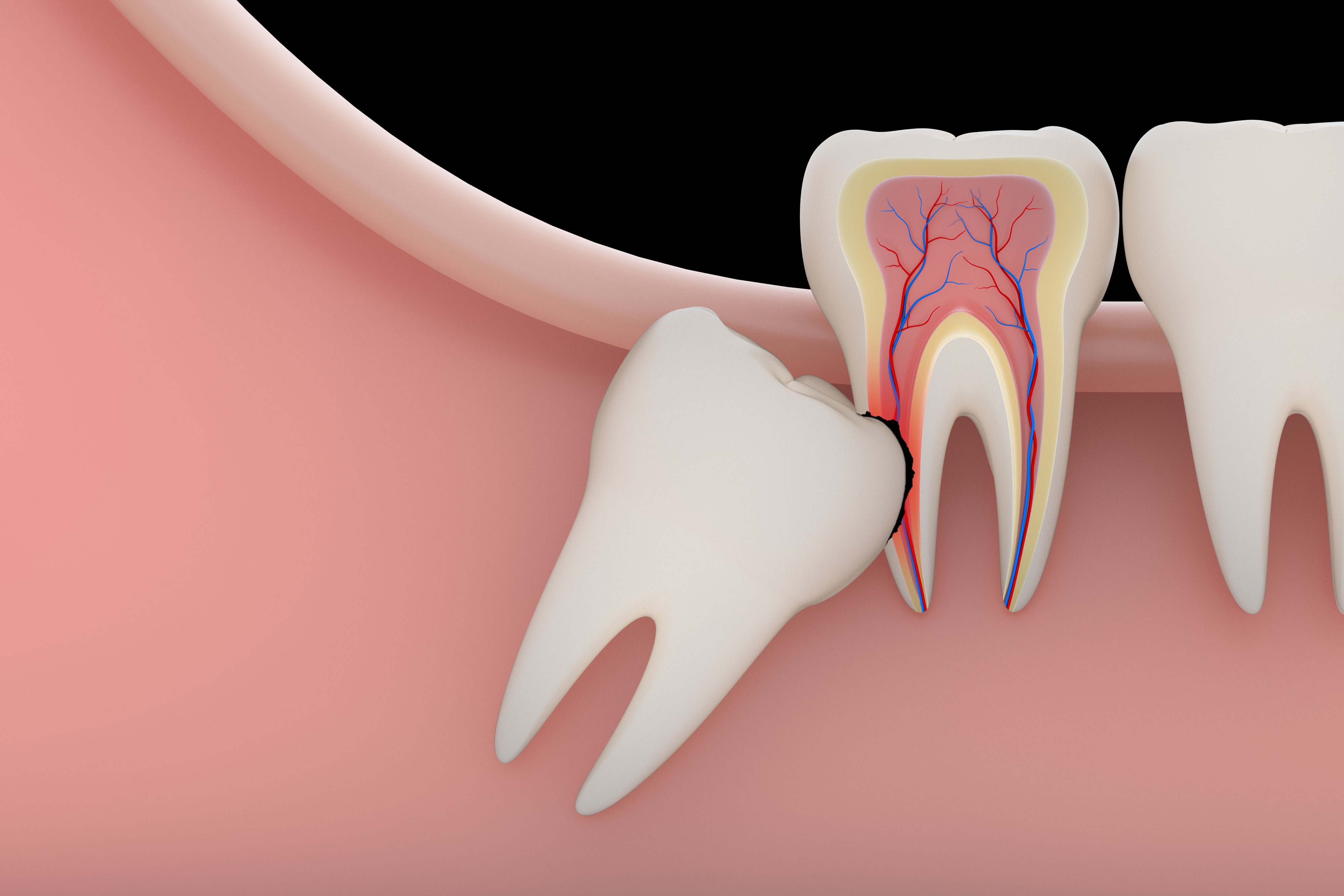 If your wisdom teeth only partly emerge from your gums, a loose flap of gum tissue may grow around them, which is vulnerable to bacteria from food particles. When debris gets trapped below this flap, your gums may become red, swollen, and sensitive, which indicates infection.
Wisdom teeth often come in at an angle that causes problems to surrounding teeth and bone. If the crown of the tooth is facing too far forward or backward, or if it leans too far to either side, it can damage other teeth and interfere with proper bite alignment. Sometimes the tooth, even if it comes in straight, can damage the gums above or below it because there is no corresponding tooth to oppose it. Wisdom teeth that are causing pain, damage, or infection should be removed as soon as possible.
In some cases, wisdom teeth can come in straight and not cause problems with the surrounding teeth. Few adults, however, can maintain wisdom teeth without experiencing decay or gum infection. The reason is that these teeth are positioned far back in the mouth, which makes properly cleaning them difficult. Removal of the wisdom teeth when they appear is typically recommended because it prevents future problems, and also because removal as well as recovery is easier when patients are younger.
Wisdom Tooth Removal Procedure Details
We will provide you with a full set of instructions to prepare you for wisdom tooth removal. Dr. Akhras will begin with IV sedation and local anesthesia so you will be relaxed and comfortable during your procedure. If the wisdom teeth are impacted, he will access them by opening the gum tissue and removing any bone that is covering the tooth. Connective tissue is gently separated from the tooth so it can be safely removed, and the opening is then closed with stitches upon completion. To control bleeding, Dr. Akhras will place folded gauze in the tooth socket. The whole surgery lasts for about an hour or two, and varies depending on how many teeth need to be removed.
Recovering from the Procedure
You will need to plan a few days of rest for your recovery following wisdom tooth removal. Dr. Akhras will prescribe pain medication and provide you with specific instructions following your surgery. You should expect to have numbness and bleeding, and you will need to change the gauze until the blood clots. It is important that you avoid physical activity and lying flat, as you may increase and prolong bleeding. Eat soft foods such as gelatin, thin soup, and ice cream, and do not use a straw in the first few days, as this can loosen the blood clot and delay healing.
Learn More
Dr. Akhras is trained in the latest dental techniques and is highly experienced in all aspects of wisdom tooth removal. To schedule a consultation for yourself or a family member, contact our practice today.