Are you experiencing tooth pain or frequent headaches? It could be an impacted wisdom tooth.
Wisdom teeth can become partially or fully impacted in the jawbone, leading to serious oral health issues.
Dr. Yamen Akhras in Orland Park, IL, offers safe, gentle wisdom tooth removal to keep your smile healthy and safe.
Are Impacted Wisdom Teeth Damaging Your Smile?
Contact Our Orland Park Practice Today.
Impacted wisdom teeth can lead to many oral health issues. Dr. Akhras can perform wisdom teeth removal to protect your smile's appearance, function, and health. Contact our Orland Park dental practice today to request your wisdom tooth extraction consultation.
An Impacted Wisdom Tooth
Can Damage Your Other Teeth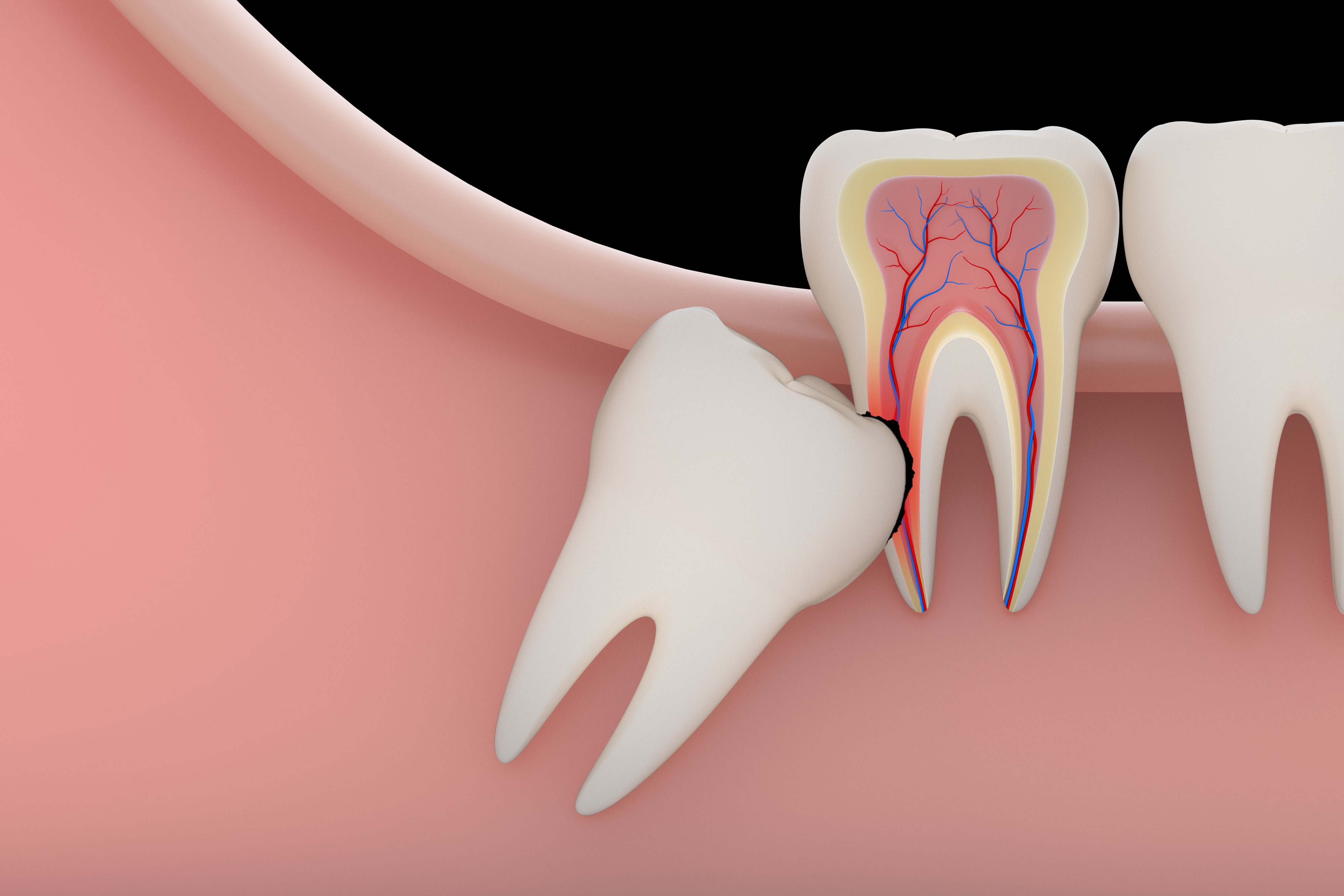 Schedule a Consultation

At Premier Dental & Implant Center, our team is dedicated to providing top-tier, compassionate care to you and your family. That is why we utilize the latest, most advanced dental technologies for accurate diagnosis and treatment.
We offer fully customized treatment plans for patients of all ages. Our doctors also provide sedation options when necessary to induce comfort and relaxation during procedures.
No matter what your oral health needs, we can help. To schedule a visit at our Orland Park, IL, practice, contact us online or give us a call at:
"The procedure was quick, easy, and painless."
Read Our 5-Star Reviews
This is by far one of the best and most professional dentists office I've ever been to... The procedure was quick, easy, and painless. I was in and out of the office in about 1 hour for 3 wisdom teeth extractions. Great service, exceptional staff, I definitely recommend this office.
View On Google
Very modern and clean office, I was able to get in the next morning. The Dr. did a great job on my difficult wisdom tooth extraction and the assistant was very attentive. Would highly recommend.
View On Google
Wisdom Tooth Removal
What To Expect During Your Procedure
The first step is to
contact our Orland Park practice
and request your wisdom tooth removal consultation. Our oral surgeon will examine your teeth to confirm the cause of your symptoms and suggest wisdom tooth extraction if necessary.
Day of Procedure
"Our Orland Park practice offers sedation for patients who feel anxious about wisdom tooth removal."
Anxious To Receive Treatment?
We Offer Three Forms of Sedation
Our Orland Park, IL, dentists offer sedation options during wisdom teeth removal for optimal comfort. Patients can choose from oral sedatives or IV sedation. We also work alongside a board-certified anesthesiologist when necessary. Dental visits do not have to be stressful. Ask your doctor which option is right for you.
Do You Need a Wisdom Tooth Extraction?
Contact Our Orland Park Dental Practice Today.
Don't let a fear of the dentist stop you from getting the treatment you need. Through sedation dentistry, Dr. Akhras can provide you with expert dental care that is virtually painless. An impacted wisdom tooth can damage your surrounding teeth and lead to further oral health issues. Do not hesitate to seek treatment.
Dr. Akhras and our entire dental team take pride in making each visit as stress-free as possible. Our state-of-the-art facility houses luxury amenities to keep you and your family comfortable throughout your appointment.
Contact our Orland Park, IL, practice for quality, compassionate care.
We Provide Great Experiences and Quality Results
"The best experience ever."
The best experience ever. I hated dentists all of my life. However, this experience was a positive experience. I'm definitely going to revisit their office and make them my official dentist. Im blessed.
View On Google
Best experience i have had at a dental office... Along with the the great experience with the doctor, the rest of the staff were all extremely kind and helpful!
View On Google
Preventing Dry Sockets
How To Avoid This Painful Side Effect
A dry socket occurs when the blood clot covering the treatment area is either dislodged or dissolves too soon, exposing the underlying bone and nerves. This exposure causes intense pain for the patient. You can prevent this painful side effect by following your dentist's aftercare instructions and avoiding actions like drinking through a straw, brushing the extraction site, and eating crunchy foods for the first 24-48 hours following the extraction.
The Side Effects
Of Wisdom Teeth Removal
Discomfort
You may feel minor discomfort following your procedure, which can be managed with over-the-counter medication. Any pain post-operation should diminish within a few days.
Swelling
Swelling and bruising are common side effects for the first few days following the extraction. Over-the-counter medication and a cold compress should help reduce any swelling or bruising.
Bleeding
We will give you gauze to take home following your extraction. Switch out this gauze regularly to help aid in blood clot formation.
Bad Taste
A bad taste in your mouth could be a sign of a dry socket. Contact our practice right away if you notice a bad taste or intense pain near the extraction site.
Complications
Contact our dental practice right away if you develop a fever, have intense pain, or you have difficulty swallowing. These side effects could be warning signs of complications. You should also contact us if you have severe pain that does not subside with medication or swelling that worsens after the third or fourth day.
The Cost
Of Wisdom Tooth Extraction
Pricing for wisdom teeth removal varies depending on the level of impaction. You will first come in for a consult that includes an $80 panoramic X-ray and a $20 exam fee. Based on this information, our dentist can estimate the cost of your procedure. Keep in mind that sedation will increase the cost of treatment. Our dental practice accepts most insurance plans, and we also offer CareCredit® financing to help break your cost into manageable, monthly payments.
"Honestly, best dentist I've ever been to."
Read Our 5-Star Reviews
Honestly best dentist I've ever been to hands down!... The staff are amazing! Soo comforting, very friendly, outgoing, and makes for a looked forward to visit! Thank you Premier Dental and Implant Center! The only regret I have is I didn't find you all sooner! TRY THIS PLACE OUT, YOU WONT REGRET IT!
View On Google
Went there and was such an easy process. Dr. Akhras is the absolute best and truly cares about his patients. He is extremely knowledgeable and was able to answer any questions I had with no issues. His staff was also extremely friendly and helpful!
View On Google