When the teeth and bite aren't in proper alignment, it can affect your appearance, overall oral health, and dental function.
Orthodontics is the field of dentistry that focuses on permanently straightening the teeth and aligning the bite.
At Premier Dental & Implant Center in Orland Park, IL, we offer a variety of options to improve the health and beauty of your smile.
"I Absolutely Love Dr. Yamen."
Read Our 5-Star Reviews
I absolutely LOVE Dr. Yamen. Dr. Yamen did all of my children's and Nieces and Nephews Orthodontics. I swear my children have had the best experience. At first I wondered if I was doing the right thing not going to our local dentist that only specializes in orthodontics. I am so happy that I chose this route. I think that because Dr. Yamen knew our dental history it helped when the time came for alignment. One of the things I can say is that my family is some of the few that have not had to "redo" their braces due to growth and changes and their smiles are amazing. I was so happy with what happened with our children that I had Dr. Yamen do my braces at the age of 43. Thank you Dr. Yamen for everything you have done for our family.
View On Google
I came across Premier Dental when searching for a place to get a root canal (first one and pregnant!) we were new to town and didn't know any good doctors. I'm SO glad I found their consult! When I called for a quote Dr. Yamen took the phone himself... he did an amazing job and my root canal experience wasn't anything but positive.

I've been going to Premier Dental for 4 years now and I cannot talk highly enough about all the staff, from the moment you cross the door to any treatment or specialty you need. My whole family now goes there too, we've got done everything from cleanings, to root canals, braces and now even implants! I would recommend them to anyone with my eyes closed.
View On Google
Schedule an Appointment Today

At our Orland Park, IL office, we have a board-certified orthodontist, Dr. Amer Shammaa. He is specially trained in the field of orthodontics, and he has the skill and experience necessary to deliver outstanding results. Dr. Yamen Akhras is specially trained in implant dentistry, and he also offers orthodontics. Together, they provide high quality care to the community.
Our dentists believe that several elements work together to help individuals achieve the best possible oral health. For those interested in dental implants or veneers, Dr. Yamen Akhras may recommend orthodontic treatment first to achieve the optimum smile line and results.
No matter what your oral health needs, our team can help. We are committed to providing comprehensive, compassionate care. Contact us online or call us today at:
Upper Braces to Shift A Single Tooth
Hear How We Improved the Confidence
Of Our Orland Park, IL Patients
All around, I am very impressed with the office. It was easy to notice that each dentist loved their job and is there to help individuals feel comfortable in their smiles. The staff takes their time to answer all question to make sure you understand and are comfortable with the best procedure that is needing to be completed. If financials are an issue, they work with you and are able to set up a payment plan. I am very thankful that I was able to find an office that is understanding and caring as this one. Thank you Premier Dental & Implant Center!
View On Google
I have had the good fortune of having Dr. Yamen as my dentist! He has taken care of my entire family as well. We trust his work and his advice completely, and all of his work has been outstanding!

The entire staff and the office manager are very kind and nice and always accommodate me! Amazing office! Highly recommend this place!
View On Google
Types of Orthodontics

There are several different types of orthodontic appliances, including fixed and removable devices. Here are a few of the options available at our Orland Park, IL, office.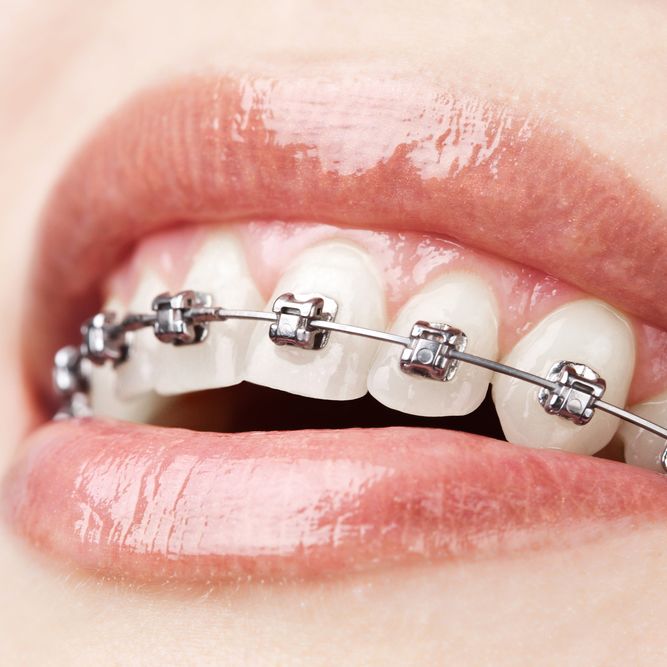 Traditional braces use surgical steel bands, brackets, and wires to bring each tooth into proper alignment. This is the most versatile orthodontic option because it can correct a wide range of problems. This treatment generally takes about two years to complete. We typically recommend traditional braces for children because they can often achieve the best outcome in these cases.
Individuals who require the mechanics of traditional braces but desire a more discreet solution can opt for ceramic braces. This option corrects misalignment issues in the same way, but the brackets are made of ceramic and the archwires are tooth-colored. As a result, ceramic braces are less noticeable compared to their conventional counterparts.
This alternative is popular among our teen and adult patients. Instead of using metal components, Invisalign uses a series of clear, removable aligners. Each set is worn for approximately two weeks before upgrading to the next set in the sequence. The teeth are shifted into their desired locations gradually. Invisalign usually takes between 12 and 18 months to complete.
Our Orland Park, IL, Office
Features Virtual Consultations for Your Convenience
Orthodontic Treatment Timeline

The length of your treatment timeline depends on the type of appliance you choose, as well as the complexity of your case. Here is a general guideline of what patients can expect at our Orland Park, IL, office.
"10 Out of 10 and I Do Recommend!"
Read Our 5-Star Reviews
This place is amazing. Their office is very clean and professional. You should definitely try this place. 10 out of 10 and I do recommend!!!
View On Google
Saw me in an emergency during covid pandemic. Saw me same day I called. Veronica was great and so was the dentist!! No more pain thank goodness. Thank you Premier!
View On Google
Adjusting to Orthodontic Treatment

When patients decide to get cosmetic treatment such as orthodontics, it is important to try to be as patient as possible about achieving the ultimate outcome. Treatment can last several months or even a couple of years, but the results can last a lifetime. For most individuals, the discomfort associated with braces or other appliances can be difficult the first couple of months, particularly for adults.
It's Never Too Late
To Visit An Orthodontist or Dentist
It may seem like you're the only adult in the world considering braces or Invisalign. As it turns out, though, you're one of many.
Now that you know about the high numbers of adult patients who opt to transform their smile with orthodontics, you can join their journey at Premier Dental & Implant Center.
Message our Orland Park, IL, dentists and orthodontists or call
From free consultations to financing options, our Orland Park, IL, dentists strive to give you worry-free treatment.
Are Orthodontic Treatments Painful?
Clear aligners may feel tight at first, but this feeling usually goes away after you have worn them for a bit.
With braces, you will likely feel some discomfort, like pressure or a pinching sensation during your initial treatment and adjustments. However, you can alleviate it by taking acetaminophen, like Tylenol, prior to your appointment.
The good news is, you have the perfect excuse to eat ice cream, along with other soft foods, like yogurt, smoothies, or applesauce. Choosing meals that require little chewing can help prevent soreness and tenderness after your visits.