Invisalign®
Crooked teeth can make you feel self-conscious and affect your oral health, but many patients hesitate to commit to metal braces.
At Premier Dental & Implant Center, we offer the Invisalign® system, allowing you to straighten your teeth discreetly and comfortably.
So what makes Invisalign a great choice?
Invisalign Offers Many Advantages
over Conventional Orthodontic Treatments
Discretion
Often, the most alluring benefit for patients at our practice is the clear material of the aligners, which leaves them nearly invisible over your smile.
No Food Restrictions
The aligners are removable, allowing you to take them out when you eat or clean your teeth. As such, there are no food restrictions and no need to worry about food stuck in your brackets.
Improved Comfort
Patients who choose this advanced option often enjoy a more comfortable treatment experience because the smooth aligners do not irritate the gums or soft tissues as traditional braces can.
Invisalign Has a
Record of Success
These issues can cause excessive wear and tear on your teeth and lead to more severe concerns such as temporomandibular joint (TMJ) disorders. Fabricated out of nearly invisible SmartTrack® material, Invisalign treatment can treat many of the same conditions as traditional braces. However, depending on the severity of your situation, traditional braces may be a better choice.
Determining Your Eligibility for Invisalign Treatment
The only way to determine if you are a good candidate for Invisalign or another type of orthodontic care is to visit our office for your initial consultation. During this first appointment, we will review whether you:
Have a Treatable Condition

Invisalign can treat an impressive range of mild to complex cases of misalignment. However, there are some smiles, such as those with severe malocclusion or wide gaps, that may be better treated with traditional orthodontics.
Are Willing to Adhere to Treatment
In order for Invisalign to work the way it should, you will need to wear your aligners as prescribed. For most patients, this means wearing the trays for 20 to 22 hours each day. If you think you might find this difficult, Invisalign may not be right for you.
Are Worried about Discretion
If you are worried about the look of metal wires and brackets but want to achieve a more beautiful smile, Invisalign may be right for you. Many adults and teens prefer Invisalign because it is virtually unnoticeable and allows them to confidently smile and speak to others throughout treatment.
Clear Aligners Are Comfortable
and Discreet
SmartTrack Technology
Advanced Clear Aligners
Invisalign trays are made of a specially designed material known as SmartTrack. This advanced material provides several advantages:
Faster treatment
Gentler forces applied on your teeth
Highly controlled movement of teeth
Increased predictability of results
A personalized, comfortable fit
Treatment Is Typically Shorter Than Braces,
But Still Takes 12 to 18 Months
Wearing Your Retainer
to Preserve Your Results
A retainer will play a critical role in maintaining your straight smile. Some patients may simply be able to wear their last set of aligners as a retainer while others may need a completely brand new retainer. Whichever method is recommended, it is vital that you wear them as directed. This is especially important during the first few months after treatment because the teeth are not yet fully secured in their new positions.
In many cases, you will need to wear your retainer for the rest of your life. However, you usually only need to wear a retainer at night to keep teeth from shifting out of place.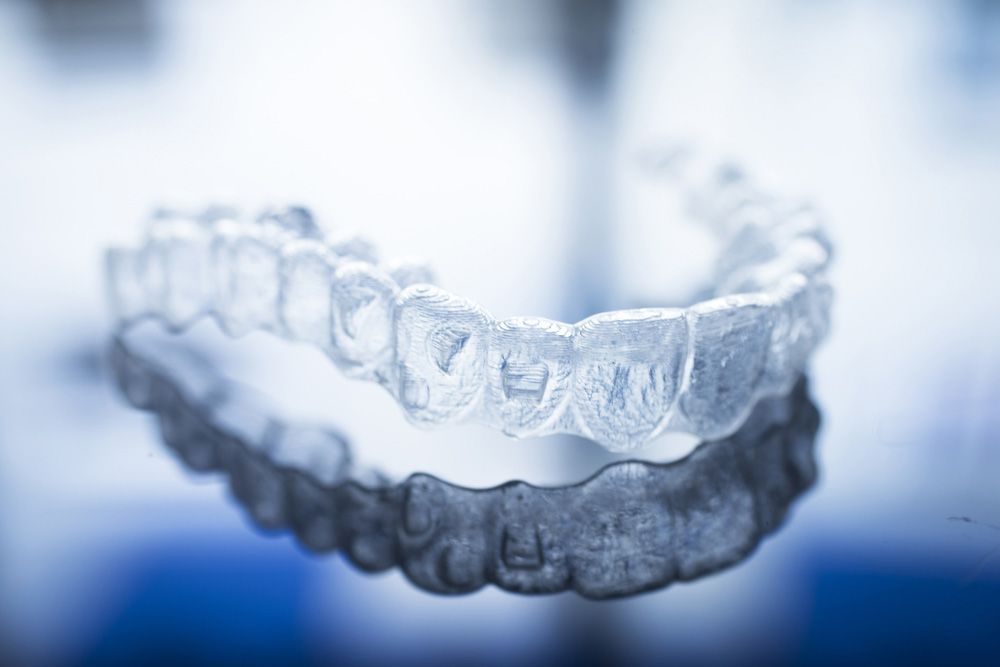 Invisalign Cost:
What You Need to Know
Invisalign® is an innovative orthodontic solution to enhance your smile and straighten teeth with clear, customized aligners. Since Invisalign is a personalized treatment, the overall cost of your procedure is affected by the extent of work and timeline necessary to meet your smile goals. At Premier Dental & Implant Center, we offer this advanced orthodontic treatment at competitive prices. Invisalign cost starts at $3,800, plus the price of a retainer to maintain your new, straighter smile.
Several Factors
Can Affect the Price of Treatment
Teeth Being Treated
Certain teeth are easier to access and treat than others. Cases that focus on the front teeth are simpler since those teeth have roots that are easier to manipulate. If your situation involves other aspects of your bite, special aligners may be required, increasing the price of treatment.
Extent of Misalignment
The amount of work required to achieve your smile goals plays a major part in determining the cost of your treatment. In more complex cases where bite issues or other special concerns need to be addressed with specialized aligners, the overall expense is higher than in more straightforward cases.
Duration of Treatment
On average, an Invisalign treatment for adults lasts approximately 12 months. Longer treatment times can increase the total cost of Invisalign. Patients undergoing Express treatment can achieve results in a shorter amount of time with a lower treatment cost.
Quantity of Aligners
Invisalign treatment consists of a series of aligners that gradually shift your teeth into place. Your treatment cost will depend on how many aligners are needed to achieve your goals.
Invest in Your Oral Health
When your teeth are out of alignment, they may be unable to perform vital functions and are more prone to decay. Leaving misalignment untreated can lead to more significant dental issues. Often, when your bite is misaligned, you are prone to grinding your teeth which can wear down the surface, damaging enamel and leading to more costly dental procedures in the future, such as root canal therapy. Misalignment can also make proper hygiene difficult, creating an ideal environment for decay to develop. By investing in orthodontic treatment, you can prevent more complicated issues and protect your oral health.
Financing
Many insurance companies cover orthodontic treatments like Invisalign. The staff at Premier Dental & Implant Center can work with your insurance to maximize your coverage as much as possible. We want all of our patients to have access to the orthodontic treatments they need to achieve their desired smile. In order to facilitate treatment, we accept CareCredit® financing to help you manage any out-of-pocket expenses.