Restore Your Tooth to Health with Root Canal Therapy
If the pulp (soft tissue) inside your tooth becomes infected, you will likely experience pain and sensitivity. Left untreated, the infection can become worse, and you could lose your tooth. Dr. Yamen Akhras offers root canal therapy to address these issues at his office in Orland Park, IL. The procedure allows Dr. Akhras to preserve your natural tooth, which will help you avoid more extensive restorative dentistry procedures like dental bridges and dental implants. With modern dentistry techniques, undergoing root canal therapy is comparable to getting a dental filling, and it can be made even easier with the addition of sedation dentistry.
Root canal therapy can often save severely damaged and infected teeth, and treatment restores the tooth to its full health.
Symptoms of Tooth Infection
Infection can occur in tooth pulp for a number of reasons, such as damage from having a cracked tooth, a deep cavity, or repeated dental procedures. Sometimes, however, patients do not experience any symptoms. When they are present, symptoms of an infected tooth can include:
Chewing and pressure on teeth that causes significant pain
Sensitivity to hot and cold on teeth, which sometimes lasts even after the hot or cold substance has been removed
Darker shade or discoloration of the tooth
Gum swelling and tenderness
During root canal therapy, Dr. Akhras removes the damaged pulp, sterilizes the inside of the tooth, and replaces the pulp with a substitute material. After treatment, you should experience significantly less pain and sensitivity in your tooth. A minor amount of gum and tooth sensitivity is common but should subside within a couple days following your procedure.
Procedure Details
Root canal therapy takes two visits to complete. Dr. Akhras begins by anesthetizing and disinfecting the area, then placing a rubber dam that protects the rest of the teeth during the procedure. He exposes the pulp by removing a portion of the tooth using a dental drill. He then uses a series of dental files to carefully clear the infected material and clean out the root canals. This part of the procedure requires meticulous attention, as any overlooked material remaining in the tooth can lead to further infection and damage, and ultimately render the procedure ineffective. The tooth and the root canals are then filled with a rubber-like material and sealed off before a crown is attached. Patients are fitted with a temporary crown while a dental laboratory creates a permanent crown, which is then fitted during a minor follow-up procedure.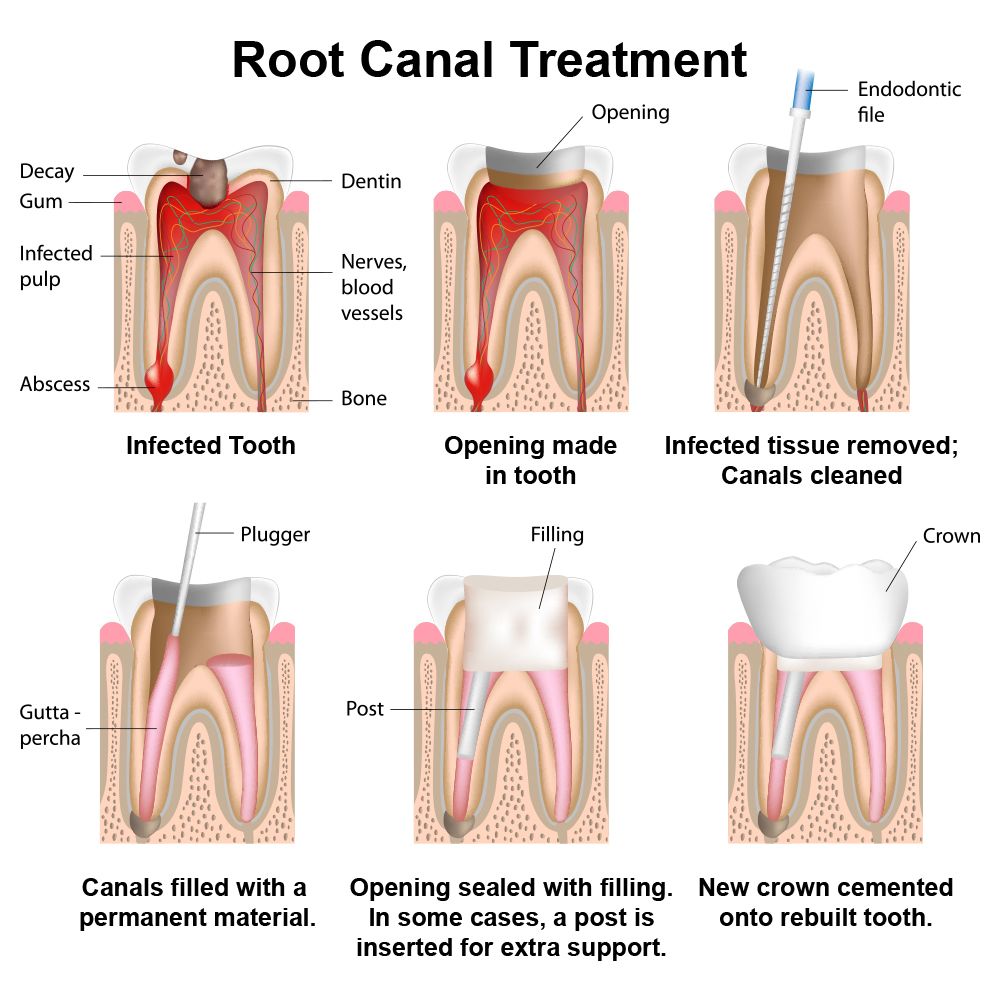 Ask About Sedation Dentistry
Many patients recall their traditional root canal procedures as painful and even traumatic experiences, but new techniques make these procedures practically pain-free. A local anesthetic is applied to the tooth area to numb it very effectively. In addition, Dr. Akhras can provide IV sedation so you can comfortably relax throughout the entire procedure. Sedation dentistry is available upon request to appropriate candidates, and it is highly recommended for those with dental phobia and anxiety as well as those who have trouble sitting for long periods of time.
Learn More
Dr. Akhras employs a variety of advanced technology to help you keep your natural teeth for a lifetime. Root canal therapy can often save severely damaged and infected teeth, and treatment restores the tooth to its full health. To schedule a consultation with a dentist experienced in performing comfortable root canal therapy, contact our practice today.