Missing and damaged teeth can cause pain when chewing and discomfort when smiling.
Restorative dentistry options can replace your missing and broken teeth to improve the functionality and appearance of your mouth.
See how our dentists at Premier Dental & Implant Center in Orland Park, IL, can provide you with relief...
What Can Restorative Dentistry Correct?
Unlike cosmetic dentistry, which aims to correct the appearance of otherwise healthy teeth, restorative dentistry focuses on repairing or restoring damaged and missing teeth. Our compassionate team at Premier Dental & Implant Center uses sophisticated technology to restore your bite, bring back your smile, and prevent future oral health problems. Restorative dentistry can address a number of concerns, including:
Decay
Broken teeth
Fractured teeth
Missing teeth
Restorative Dentistry Treatments
AND HOW THIS BRANCH OF DENTISTRY CAN HELP
Fillings
Fillings are used to restore a tooth after a cavity. After our Orland Park dentist removes the compromised tissue from a tooth, dental fillings can fill the hole and restore the structure of the tooth.
Dental crowns can restore a single damaged tooth. Once any damage or decay has been removed from the affected tooth, a custom dental crown can fit over what remains of the tooth to protect and strengthen it. Crowns can also be used to correct cosmetic concerns in cases of short, worn, or misshapen teeth.
Dental bridges are custom restorations comprising multiple dental crowns fused together. They can restore areas of tooth loss of up to three missing teeth in a row. Bridges are supported by nearby teeth that have been crowned to support the bridge.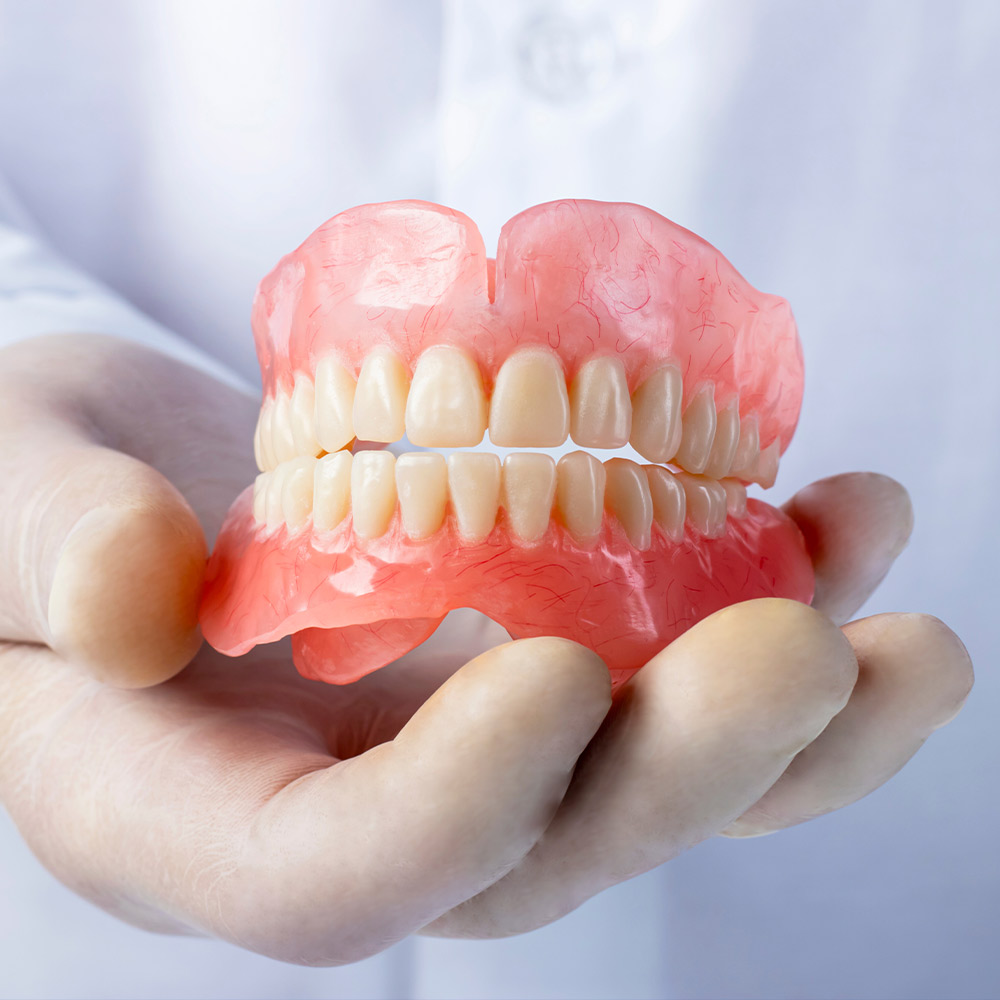 Dentures are dental restorations for patients who are missing all or most of their teeth. Dentures can replace an entire arch of teeth, making it easier to chew and speak with confidence. Dentures also support the lips, resulting in a more youthful appearance.
Dental Implants
Modern dentistry has given us the ability to restore missing teeth from root to crown using dental implants. If you are missing teeth, these small metal posts stand in for the lost tooth roots. They are vital in preventing jawbone atrophy. When cared for properly, they can last a lifetime.
Implant-Supported Restorations
Dental implants provide a firm foundation for crowns, bridges, and dentures. Implant-supported restorations are often considered the best method of tooth replacement due to their stability and durability.

Consultations
Late & Weekend Appointments
Meet Our Restorative Dentist
DR. KAITLYN LAGESSE
Dr. Kaitlyn Lagesse is our restorative specialist in Orland Park, IL. She prides herself on providing high-quality dental solutions to her patients. While attending college, she won many awards for her clinical and leadership skills. She was also inducted as a member of Omicron Kappa Upsilon, a prestigious national dental honor society.
We Make Dentistry
More Affordable
If you don't have dental insurance or find out-of-pocket expenses an obstacle, we accept flexible financing through CareCredit®. Our friendly team can answer any questions you may have about costs.
See What Our Patients Are Saying
Honestly best dentist I've ever been to hands down! I have had fillings, root canals, and crowns and I'm lucky I came to this establishment. Dr. Lagesse is everything you look for in a dentist, friendly, always smiling and outgoing, makes sure your comfortable, taking some extra time to make sure it's just right, I love how she doesn't rush it at all, not to mention, the procedures are soo smooth, and she's good at numbing the perfect spots, she really knows what she's doing!
View on Google
All around I am very impressed with the office. It was easy notice that each doctor loved their job and is there to help individuals feel comfortable in their smiles. The staff takes their time to answer all question to make sure you understand and are comfortable with the best procedure that is needing to be completed. If financials are an issue, they work with you and are able to set up a payment plan. I am very thankful that I was able to find an office that is understanding and caring as this one.
View on Google
Misaligned Teeth
Can Lead to Tooth Damage
Crooked teeth often cause uneven wear on teeth, damaging them and sending you to the dentist for restoration work. Misaligned teeth can also be difficult to clean. That opens the door to tooth decay or gum disease.
If you are looking to avoid future restoration costs, you may want to consider orthodontic treatment. Our Orland Park practice offers both fixed and removable braces tailored to suit your lifestyle and dental needs.
Protect Your Smile
Look to Cosmetic Dentistry
For a Beautiful Smile
While restorative dentistry ensures your teeth are healthy and strong, cosmetic dentistry concentrates on making the most of your smile.
Veneers are a popular example. These thin ceramic shells fit on the front of teeth and transform your smile by concealing gaps, misshapen teeth, and other cosmetic issues.
Maintaining Your Restoration
Caring for your restoration following treatment at
our Orland Park practice
is simple and can help your dental solution last for years.
Follow an Oral Hygiene Routine
Your at-home dental care will help preserve your restoration and keep your mouth healthy enough to support it. Brushing twice each day, flossing once each day, and using an oral rinse are integral parts of any dental care plan.
Visit the Dentist Regularly
Scheduling regular checkups at our office in Orland Park will allow your dentist to ensure you're taking care of your teeth. If you have a restorative solution like a crown, bridge, or denture, your dentist will monitor its condition.